Happy New Year, fellow coffee enthusiasts! And welcome to my table here in the corner of Chicago's Swim Cafe. It's been quite a while since I last reviewed a cafe here, so I'm really hoping I remember how it's done. For the past month, I completely avoided writing a cafe review and, instead, dedicated all of December to reviewing nothing but holiday coffees. For a brief few moments, I even considered avoiding cafe reviews all together and focusing only on coffee reviews. In the end, I concluded that pushing myself to review coffee shops pushes me to get out of the house and discover new things.
This review, however, is no new thing to me. Today, we're hanging out at Swim Cafe—conveniently located three blocks away from my house. This isn't one of those places that I scout out on Yelp, or find out about from someone else's top ten list; this is the place I go. My stomping grounds. For better or worse. Oddly enough, despite the fact that I'm an editor, writer, and social media type of guy, despite the fact that I live with two freelance graphic designers, and despite the fact that this is the 21st century, I don't have the Internet at my house; so whenever I need to do anything online, I sling my Chrome messenger bag over my shoulder and walk over to Swim Cafe. Just like I did today.
Care to join me? Feel free to pull up a chair.
Swim Cafe is one of those businesses that is torn between proper restaurant and coffee shop. While they have a full-service espresso bar and are even in the works of setting up a pour-over bar and while their bar area is chock-full with pastries (their coffee cake is seriously the best coffee cake I've ever had), their kitchen is even more full-service. Behind the bar, hanging on the wall, are three giant menu boards that list all of their food offerings and, I have to say, their list is expansive. They serve food during the breakfast, lunch, and dinner hours and have food to match each meal—omelets, parfaits, oatmeal, sandwiches, soups, salads, you name it.
And it's not just the amount of food they offer that makes their menu so impressive—it's also the variety. They've got the basics like bagels, croissants, and peanut butter-jelly or ham and chees sandwiches covered, but they even prepare more gourmet dishes like their Lox Deluxe sandwich—smoked lox, red onion, tomato, and capers on a bagel—and their Seitan Gyro—vegan tzatsiki sauce, tomato, red onion, and cucumber on pita. Even their salads seem like they belong on a $20-per-plate-restaurant's menu.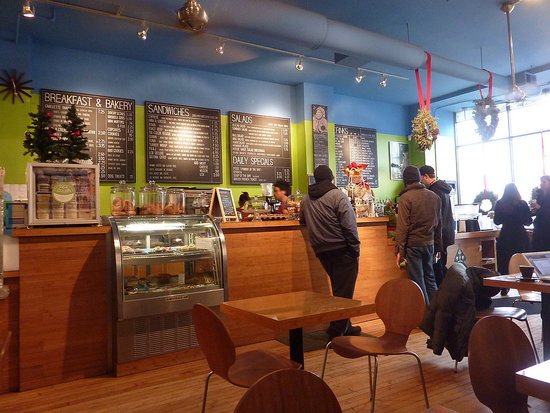 According to Karen and Debra Gerod, the founders of Swim Cafe, their menu is "driven by their constant curiosity to explore new recipes and flavor combinations. Some are inspired by international favorites, regional ingredients and local specialties; others are inspired by what's in season or simply by our restless imagination." Even better, all of their recipes are prepared to order from scratch in their kitchen with only the finest and freshest hand-picked ingredients.
While they serve juices, teas, and waters, it's their coffee offering that really stands out. And, even though it seems like Swim's primary focus is on the restaurant side of things, the amount, quality, and variations of coffee they sell definitely give the impression that coffee is number one. However, it's with their coffee that things start to break down for Swim.
At least for me.
Over the past almost seven years, since their opening in 2005, Swim Cafe has switched their coffee offering a couple times. Currently, they're serving one of my favorites: Counter Culture Coffee. This relationship began a few months ago, towards the end of last summer, and, by all appearances, seems to be going well for both parties. I know from experience that Counter Culture treats their customers very well and, from my conversations with the guys manning their Chicago training center, it sounds like Counter Culture is going to be doing a lot of things to help out Swim (like setting up the aforementioned pour-over bar, and maybe even installing a new La Marzocoo espresso machine).
Before Counter Culture, though, Swim Cafe was one of the few places north of I-290 that served Chicago's very own Bridgeport Coffee. I remember very well the wave of shock that was sent from my head to my toes and back the day I learned that Swim made the switch. They didn't even make an announcement; one day, they just weren't serving Bridgeport anymore. At the time, I was furious. Even though I'm a big fan of Counter Culture and I'm friends with the guys at the Chicago training center, I'm one of Bridgeport Coffee's biggest fans.
Then I learned that before Bridgeport, they served something else. And before that even, it might have been something else. That's a lot of change for a coffee shop that's only been around for seven years. It's been said that Swim wants a coffee provider that will help them establish their "coffee culture," and while I agree that Counter Culture will definitely do that for Swim, I also believe that Bridgeport could have. Perhaps it's the owners' "constant curiosity to explore new" things that makes them switch their coffee provider so often, but ultimately, a cafe's "coffee culture" is defined, not just by the coffee they serve, but by the people serving it. It's one thing to serve Counter Culture's Toscano espresso blend, but it's another thing to know how to pull a really good shot of it.
Unfortunately, generally speaking, the baristas at Swim don't know how to serve it well. That's another way Counter Culture is assisting them. The drinks they make are average, at best. Don't get me wrong, there are, of course, a few baristas there who are really good at their job; but then there are some who just… Aren't. This is probably because, even though they're striving to build a more defined coffee culture, they're still very much focused on the food coming out of the kitchen.
Rather than defining their coffee culture, perhaps they should really be focusing on establishing a healthy balance between their food and drink.
Swim Cafe is a coffee shop that really is brimming with possibilities—they've already established themselves as a great sandwich/salad/soup diner, and they serve really good coffee. They just need to learn how to serve that coffee better, that's all. This is by far Noble Square's best cozy little neighborhood cafe that has the potential to be a City of Chicago staple. They have the direction already, now all they need is to start taking steps in the right direction.